Official thread about nothing
10-17-2018, 02:16 AM
Join Date: Jun 2014
Location: Alexandra, VIC, AU
Posts: 4,482
---
Originally Posted by
JaguarJeffrey
When did "surface rust" become "patina"? I don't get this "weathered look" on vehicles. Seems like the owner just didn't take proper care of his vehicle, or used it more as a more workaday vehicle. I've seen car restoration shows that try to replicate surface rust and faded paint to simulate a weathered "patina". Heck, I could do the same thing . . . it just might take a bit longer.
Here's some patina for ya! I bought a spare engine for my 1960 Morris. Its been living under a sheet of corrugated iron in a paddock for 20 years. Bit of a buff up and a chrome rocker cover and I am good to go.
oh, and maybe some plug leads
10-30-2018, 08:57 PM
Join Date: Mar 2009
Location: Upland, CA.
Posts: 5,447
The Following User Says Thank You to Jayt2 For This Useful Post:
10-31-2018, 03:20 AM
Join Date: Jul 2012
Location: Wiltshire, UK
Posts: 3,513
---
Not all true; the Channel Islanders lived on seaweed for 5 years during the German occupation.
11-01-2018, 10:52 AM
---
11-01-2018, 01:58 PM
Join Date: Jul 2012
Location: Wiltshire, UK
Posts: 3,513
---
Unfortunately the people have to be protected.
From themselves.
11-01-2018, 04:01 PM
Join Date: Mar 2009
Location: Upland, CA.
Posts: 5,447
---
There's always the Darwin Award nominees...
11-30-2018, 10:25 AM
---
And the winner is:
World Explorer or Christian Martyr? The most isolated tribe on Earth kills Selfie Seeker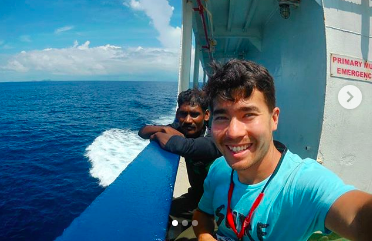 (14 November 2018, Andaman Islands, India) John Allen Chau, a
self proclaimed world explorer
inspired by Livingston and Jesus, was killed by the very tribe of natives he was offering eternal life. According to the
BBC in Delhi
, Chau bribed six fishermen to ferry him to the off-limits island so he could offer the Sentinelese tribe gifts of scissors, a soccer ball, and Jesus.
In a letter
he wrote to his family, this Vancouver resident and Alabama native said he wanted to make contact with the 60,000 year old tribe because "The eternal [life] of this [Sentinelese] tribe is at hand."
He paddled to the island in a kayak and was immediately "attacked by arrows but continued walking," stated the global news agency AFP. The fishermen then witnessed the natives "tying a rope around his neck and dragging his body" along the shore. They were clearly rejecting his gifts.
The tribe, the most isolated on earth, has taken a well documented, zero tolerance approach to visitors since a British occupation almost wiped them out during the 1800's. It's no surprise Chau's remains remain unrecovered.
Was he a martyr as friends claim on Instagram? a missionary according to his parents? or just a selfish selfie seeker? or a genocidal maniac bringing the tribe life threatening disease, as his bible quote from Revelations 7 indicates? He said he wanted to "see them around the throne of God worshiping in their own language as Revelation 7:9-10 states." We'll never truly know the answer, since the tribe doesn't seem to have updated their social media accounts in quite some time.
12-10-2018, 12:38 AM
Join Date: Jun 2014
Location: Alexandra, VIC, AU
Posts: 4,482
---
12-10-2018, 12:44 AM
Join Date: Jun 2014
Location: Alexandra, VIC, AU
Posts: 4,482
---
We have been good this year by not drinking alcohol during the week, except for social occasions. Last night me wife declared that as it was Drinkcember that rule doesnt apply from now till January 1. New rules! who knew?
01-18-2019, 04:46 AM
Join Date: Jun 2014
Location: Alexandra, VIC, AU
Posts: 4,482
---
In my glorious State of Victoria-stan, the people have decided to elect a bunch of windmill loving fantasists. So it is only a matter of time before the grid falls in a heap and we have prolonged outages. This being the case last summer I purchased by own generator and had the meter box rewired with a big Frankenstien switch and a socket to plug the generator into cleanly to power the house.

We have had a couple of short outages recently but today it went off for three hours (just a local issue I think) and I got to test it for real. Ihad a background worry that I hadnt gone big enough on the generator, but was pleasantly surpised at what it can support. Invertor AC units take a lot of surge out of the system it seems and we comfortably ran a large AC , ceiling fans and a double door fridge (plus some small things we couldnt easily reach the power points to turn off). Enough to stay comfortable on a 40C day.

When it was all over I also tested the generator supporting just the main house water pump (we are on tank water). I thought the starting surge might be too much but handled it OK. You could hear the hit when the surge started but it rode through multiple times fine. Good to know if we want an additional low volume hose in a fire and the power is out. Operation big success!!!
The Following User Says Thank You to yarpos For This Useful Post:
01-18-2019, 01:37 PM
Join Date: Mar 2014
Location: Tehama County, California, USA
Posts: 16,110
---
Living out here in the Stix, our main power concern is Ice Storms, with the occasional traffic incident taking out a pole. Poles are usually repaired in a couple hours. But in January 2008 we lost power for a week due to a wide spread ice storm. I was visiting family in Montana at the time so husband dealt with it.
At the time he built this house (before I was in the picture), he planned for this eventuality and installed an aux power switch such as you mention. Never doing things by halves, and falling back to his broadcasting heritage, he contacted an elderly friend who just happened to have the appropriate switch in his stash of "unused" items.
Those blades are 1 inch wide by 1/8 thick (what would that be, 25x3mm?). This Monster is capable of switching a small factory! Live!
Paired with his 10 kva alternator capable of powering said small factory, we have little to fear from power outages as long as the gas holds out; of which we keep a rotating supply of several jerry cans.
My dad used to call him, Bigger is Better B--------.
(';')
01-18-2019, 11:49 PM
Join Date: Jun 2014
Location: Alexandra, VIC, AU
Posts: 4,482
---
You are well positioned to become the electricity when the town of LnrVille springs aup around you.

They remind me of some rather large switches (the genesis of my Frankenstein switch comment) we had to operate just before 9AM every day in the telephone exchange. As the load approached 4000A (48VDC) we had to start some large motor generators sets , adjust their voltage to a volt or two over whatever the exchange supply said and then close the switch. If you did it all OK no drama , if you didnt mucho sparky at some big carbon pads that made before the copper bars. Ahhh the good old days.
01-19-2019, 10:08 AM
Join Date: Jul 2012
Location: Wiltshire, UK
Posts: 3,513
01-19-2019, 10:12 AM
Join Date: May 2007
Location: Michigan City, Indiana
Posts: 1,709
---
Thread
Thread Starter
Forum
Replies
Last Post
Currently Active Users Viewing This Thread: 1
(0 members and 1 guests)