Aftermarket exhaust.
07-03-2014, 07:55 PM
Aftermarket exhaust.
---
Lady J got put up on a lift and the old exhaust is full of holes. There is twist in the pipes too. I have spare exhaust but not sure of condition. What have others done to replace the exhaust front to back?
07-04-2014, 07:47 AM
---
I took mine to a shop and had a new exhaust custom bent and installed. It was on the pricey side but it turned out really nice. I think the hardest part was snaking through the rear suspension... but no rattles, etc! FWIW, the exhaust shop I took it to had a very good reputation.
07-04-2014, 10:44 PM
---
Shamefully, I do not have any good pictures. The light under the car wasn't so great. The way it snakes through the rear cage is masterful! I have two huge mufflers in the back and they don't rub. I've had it all apart and back together and all is still well.
The place is Mandrel Bending Solutions in Pasadena, MD and they do really good work.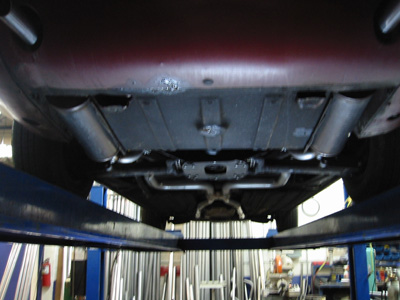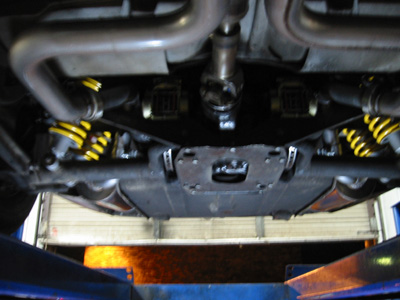 07-05-2014, 07:14 AM
---
I think I paid $80 / hour plus materials. Materials were very competitively priced as they have an online store that sells exhaust parts at great prices.

Sometimes you get what you pay for. I got an exhaust laid out just the way I wanted, in the size I wanted, with the mufflers I wanted, mandrel bent (as opposed to crush bent) and all in stainless steel.

With that being said, this shop was my second choice. I got a bad vibe from the first shop I went to and decided not to have them do the work. I'm really glad I passed on that first shop.
07-05-2014, 08:39 AM
Join Date: Mar 2008
Location: Pacific Northwest USA
Posts: 20,147
---
Not that I've checked recently but you can probably still buy a complete replacement system for your car.....and install it yourself.
Or, even if an exhaust shop orders and installs a complete system the labor charges shouldn't be too bad.....as cutting off an old system and installing a new (original design) system is much less labor intensive than a custom-designed system built to the owner's specification.
Cheers
DD
---
Last edited by Doug; 07-05-2014 at

08:40 AM

. Reason: sp
07-05-2014, 09:03 AM
Join Date: Jul 2012
Location: Walnut Creek, California
Posts: 5,727
---
As my car is somewhat different, I needed the service of a good muffler shop.
I bought custom built down pipes from Suncoast in Punta Gorda, Fla. Very nicely done and veer away from the steering quite neatly. I kept the "through the IRS" pipes and small glass packs done by a PO. And the stock pair of Jaguar mufflers. All in good shape, so why not.


So, his task was a straight run with two pipoes parallel tot he drive shaft. But, included a pair of catalyctic converters and an "H" pipe. Not in SS. Moderate clime hear and pipoes live well. I did coat the down pipes in an aluminized paint. In spite of the extreme heat right out the manifolds, it has held up well. I've thoght of dsoing the rest, but just....


Oh, 800 bucks. Considering it included two new cats, I was pleased.


Sounded neat, right out the down pipes on the way to the muffler shop!!!


Now, much quieter, but with a defintely nice purrrrrrr.


Carl
Thread
Thread Starter
Forum
Replies
Last Post
Currently Active Users Viewing This Thread: 1
(0 members and 1 guests)